After my retreat at Wat Pah Nanachat, I rode trains for a couple days to get to Wat Suan Mokkh International Meditation Hermitage, and sit a ten day meditation retreat there.
Suan Mokkh is a meditation center located on the long narrow peninsula that extends from Bangkok south to Malaysia. Similarly to Wat Pah Nanachat and Ajahn Chah, the Suan Mokkh IMH was founded by one of the more famous twentieth century Thai Buddhist masters (in this case, Buddhadasa Bikkhu) as a place for Westerners who wanted to study with him but could not understand the language at his Thai-language monastery. Unlike the reclusive, quiet, under-the-radar, invitation-only Wat Pah Nanachat, however, the SMIMH is something of a high-traffic Lonely-Planet-guidebook-recommended circus, with eighty backpacking tourists coming through every couple weeks to start ten-day retreat. At Wat Pah Nanachat, most of my fellow visitors had, like me, been sitting retreats and meditating daily for decades; at the SMIMH, in contrast, the retreat was most visitor's first ever in-depth exposure to Buddhist sitting.
I first heard about the SMIMH years ago, as my friends Damien Jones, Andrew Chakin, and some friends from the Zen world told me how much they valued their experiences there.  Also, while practicing at the Tassajara Zen monastery, I read a book about meditation technique written by Buddhadasa. Since then, I imagined the SMIMH as an exotic place filled with intense Buddhism and deep wisdom. My actual experience of the place was not quite that lofty.
"Meditation Hall Number Five" was where we sat meditation each day.
It had no walls, so cool gentle breezes and all sorts of insects joined us in our practicing.
Another view of "Meditation Hall Number Five". I took this pic surreptitiously on the last day, at a time when some people had gotten up to do walking meditation, and some were still sitting.
The practice schedule for the retreat consisted of about two-thirds seated meditation, and one-third walking meditation.  We also listened to some lectures by various monks, and did some simple traditional chanting.  Religious chanting seemed to be an uncomfortable experience for a few of the people on the retreat, but most of the folks seemed to join in with a smile of their face.
The meditation practices that are taught at SMIMH are simultaneously standard yet also unconventional.  Buddhadasa taught the ancient, classic Buddhist meditation curriculum (the Cattāro satipaṭṭhānā, or "Four Foundations of Mindfullness" in English: first study the body, then emotional reactions, then the mind, then cosmic phenomena).  But Buddhadasa also, uniquely, taught that seekers should use breathing as a method of exploration, and as a filter through which to view, of the four areas – he called it "mindfullness with breathing".  The monks who gave lectures to the retreatants at SMIMH delivered a simple version of those instructions.
I had tried Buddhadasa's methods earlier, when living at the Tassajara Zen monastery and reading his book, and found these techniques to be relatively less useful and clear.  So, while on retreat at SMIMH, I did some simple breath meditation to concentrate my mind, but, for insight work, I mostly did techniques from my teacher Shinzen Young's system (be aware of all sounds in the environment one period, be aware of internal conversation the next, take notice the moment body sensations disappear, etc.).
I consider Shinzen to be the greatest innovator in the field of meditation techniques that I am aware of.  I find his system of techniques to be the most comprehensive, scientific, all-inclusive, and powerful that I have yet to encounter – it seems to me that his system includes the techniques of all other lineages of Buddhist meditation, but also contains much that they do not.  I suppose that that is why I have been his student for over twenty years.  🙂
Anyway, the walking meditation instructions at SMIMH were traditional and standard: to pay close attention to the process of lifting, moving, and placing our feet with each slowed-down step, deeply experiencing the richness of the sensory phenomena that happen with each movement.  I was happy to do that technique as instructed.
Meditation Hall Number Five
People getting up from meditation.
We sat on hard sandbags, placed on mats, on top of a  floor of loose sand.
[edit: The sandbags were so hard that sitting on them during this retreat, combined with sitting on hard cushions the previous two weeks at Wat Pah Nanachat, left me with mild bursitis, inflammation of the sacs of synovial fluid in the buttocks, for a couple years afterwards]
Sun setting in the meditation hall.
One night, while meditating in the still, quiet darkness, I felt a sharp pain, like getting poked by the ends of two knives, on the big toe of a foot that was tucked under me in my cross-legged sitting position.  I jumped up and shone my flashlight on a black centipede the size of snake wriggling away between the cushions of the other meditators.
What I imagine happening is that the creature had somehow gotten caught under me, decided to give me a bite, but had second thoughts when it tasted the anti-mosquito spray slathered all over my foot, and stopped its bite half-way through.
A couple French guys got really excited about chasing down the centipede.  At first this was fun, but then I felt badly about the possible interruption of folks' previously silent meditation time.
A view of "Meditation Hall Number Five", from across one of the ponds we did walking meditation around.
I enjoyed the warm sunshine, cool breezes, and the sounds of nature, during our walking meditation periods.
Walking meditation path bisecting two ponds.
Passageway to artificial island in the middle of an artificial lake.
Sometimes, during walking meditation periods, people would appear to get sick of meditating fourteen hours a day, quit walking, and just sit on the walkway/pier to the island, staring at the fishes swimming around.  I was temped to ask take these people aside, ask how they were doing, and see if I could talk about with them to help them to make the most of their retreat.  I decided however that maintaining silence was the best course of action.
Besides the meditation sala, the center consisted of a number of immense, solid, institutional concrete buildings.  The largest that I saw were the two dorm buildings pictured, which held about sixty rooms each. These buildings were imposing but had a grace to them too.
The front of one of the dorms
Dorm
Inside courtyard of a dorm. We drew buckets of water from the six big round cisterns to bathe from and wash clothes with – you can see one of em half-way down the wall.
A bed, in one of the sleeping cells. The pillow is made out of wood.
One of the monks who gave lectures to us laughed and urged everyone in the retreat to try sleeping with the wooden pillow. His suggestion was met with a chorus of groans.
Path at Suan Mokkh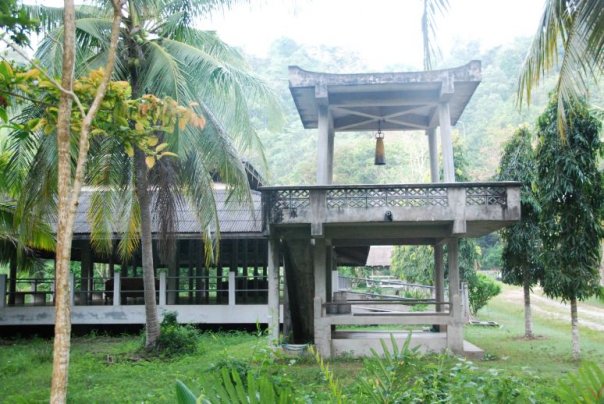 Bell tower at Suan Mokkh. The volunteer lay people would ring the bell to call us to the meditation hall, or the meal hall.
Every morning, in the hall to the left of the bell tower in this picture, we were led in some "yoga" by an enthusiastic old European guy who did not seem to have much training.  The sequence of poses consisted of a haphazard mix of actual yoga, some western stretches, and some movement exercises I recognized as resembling Chinese chi gung.  The lack of precision to the sequences was frustrating for me, but felt good to move and stretch.
Dining hall at Suan Mokkh.
No, no. Thank you.
(sign on the wall at the bathroom at Suan Mokkh).
A bhava chakra (wheel-of-life) thangka, which are visual teaching aids used to illustrate different aspects of Buddhist teaching.  They are usually found in Tibetan Vajriana Buddhist settings. This one was painted on a big mural that was used in some of the lectures at Suan Mokkh.
The monster is supposed to symbolize the horribleness and suffering of being alive.  The Buddha, however, stands outside of the monster, in infinite unbounded space, pointing to the eightfold path (eight-spoked wheel) as a path of practice.
This thangka had a few non-traditional features.  I am not sure why it had, in the middle ring, five of the usual six "realms of existence/rebirth" – Hell, hungry ghost, animal, human, and demi-god – but not the bliss-realm of the Devas (celestial god-beings).
Group picture for the meditation retreat
I unexpectedly bumped into San Francisco friend Adam Gordon at the end of the retreat. I had a great time chatting with him after the vow of silence was lifted.
On the day after our retreat ended, we walked a mile from the International Meditation Hermitage to the main, original, Thai speaking Suan Mokkh monastery.  A truck carried our backpacks, so we were free to stroll, chat, and relax.
One of the monks who gave Dharma lectures during our retreat took us on a tour of the buildings of the main temple (that's him in the picture, explaining something to us). This monk didn't speak the best English, but was all smiley, upbeat, and full of energy. I found out after the retreat ended that a number of the ladies in the course had li'l crushes on him.
I loved most of what was said in the lectures by this monk, the antisocial/sarcastic old English monk, and the rest of the lecturers. And much respect to them, they're monks, they've given their life over to the Dharma. That said, I kept feeling uncomfortable at how the explained the teachings. Much of it, I kept thinking, could have been explained better, in a way that would be more easily comprehensible to beginners.
The main Suan Mokkh temple had a "Spiritual Theater", filled with pictures that illustrated various religious points.  Here I am, with a painting meant to warn men against the corrupting influence of women and sexual desire.
After our tour of the main temple ended, I waited with a group of friendly folks who had sat the retreat to take the one-hour intercity bus to take us from town of Chaiya, where the meditation retreat was, to the neighboring city of Surat Thani.
As is often the case immediately after a retreat, everything seemed extra vivid, intense, and real.  Conversations with people were easier and more open than usual, but also felt raw and unguarded.  I felt rushes of energy that were usually pleasant but at times too much.
As we boarded the bus, I saw a small man climbing into the luggage storage compartment along with our bags.  I did not think anything of it at the time – I guess I assumed he was some sort of employee of the bus company.  After all the opening, generosity, grace, and trust that I had experienced on the retreat, however, it was disappointing change of mood to later find out that the man had apparently gone through my bag, and found and stolen the five American twenty dollar bills that I had stashed as emergency money.