I just finished visits to the astounding Ajanta and Ellora caves, both World Heritage Sites, in the middle of the Indian state of Maharashtra. These cave systems are thirty and thirty-four, respectively, huge caves, hand-carved over decades, chip by chip, out of solid cliffside rock. Many of them contain elaborate religious detail-work.
The thirty Ajanta caves were carved by Buddhist monks 2,200 to 1,400 years ago. Five of the caves served as temples just for ceremonies, and the rest were residences.
While at the Ajanta caves, I kept wondering to myself how it must have been to live as a monk at there, in one of the little meditation cubicles that the vihara (residential) caves had so many of. I imagine it must have been a pretty austere life. But perhaps no more than living in many modern-day monasteries …
The entrance to cave number nineteen. The reliefs apparently show scenes of the Buddha teaching and ordaining his son Rahula.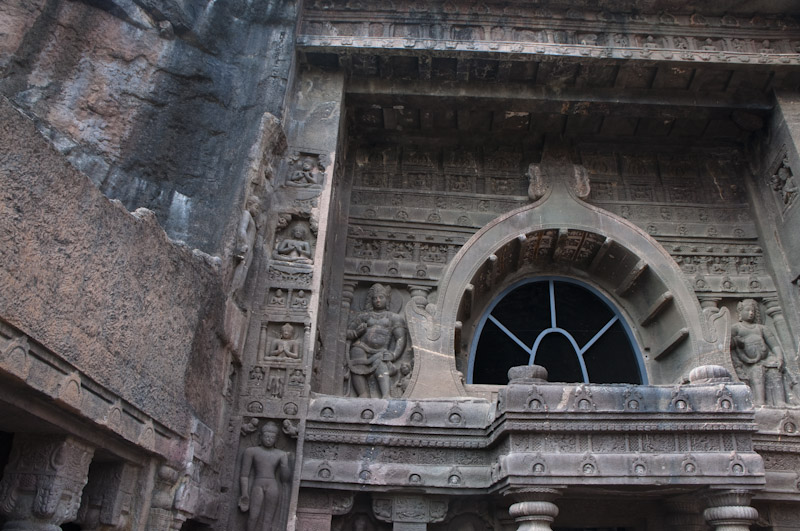 Entrance to a different cave
The view from just inside one of the caves
The caves that served as viharas (residences) usually had ornate hand-carved altars, which took my breath away to look at. I was impressed, thinking of how many man-years and how much technical skill it must have taken to carve them.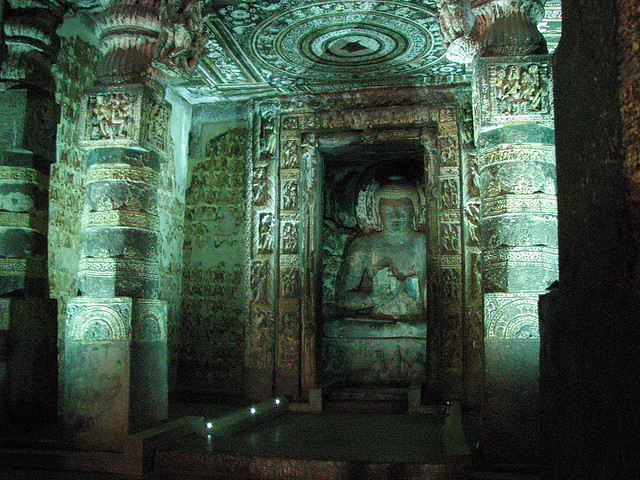 The chaitya caves (a temple cave for rituals, with no residential cells) had even more elaborately carved altars. This is a picture of the altar in cave number one, one of the more famous caves, which contained the altar with perhaps the most ornate stonework.
The altar of a different chaitya cave
The walls of the chaitya caves were magnificently detailed
The huge reclining Buddha carving in the wall of cave number twenty-six
More elaborately hand-carved stonework in the walls of some of the Ajanta caves
The carved stone ceiling of one of the caves
The painted ceiling of a different cave
This painting from cave number one is apparently one of the most famous one, and not just for being in comparatively intact condition. It pictures people celebrating the coronation of Mahajanaka (who was, in a later rebirth, to become The Buddha).
Another famous painting, also from cave number one, of Avalokiteshvara Bodhisattva, in a pose called "Padmapani" ("with lotus flower")
More paintings
A few days later, I visited the Ellora caves, which are about sixty miles south-west of the Ajanta Caves. The Ellora caves are more famous, and consist of thirty-four hand-carved caves in total – twelve Buddhist, seventeen Hindu, and five Jain (in contrast with the Ajanta caves, which were completely Buddhist).
The Hindu "Kailasa" temple was one of the most impressive things I have ever seen in my life, a massive, immense, ornate, beautiful system of holy temples, carved in single piece out of a mountain with just hammers and chisels. Wikipedia says, "It is estimated that about 200,000 tons of rocks was scooped out over hundreds of years to construct this monolithic structure."
The glory of the Kailasa Temple
Notice the people in the lower right hand corner of the picture, for an idea of the size of the Kailasa temple
A carving of Shiva in his "Nataraj" ("Lord of the Dance") aspect, carved into a wall at the Kailasa temple
I also was blown away by the cave immediately to the South of the Kailasa temple, the Buddhist triple-decker "Tin Tal" cave. It was the most impressive and elaborate out of all the Buddhist caves I saw at Ellora or Ajanta (they say it was built somewhat in response to the Kailasa temple).
Here I am, looking a little lost at sea, on the top story out of three, in front of statues that represent some of "the seven Buddhas before Buddha".
The seven Buddhas before Buddha
Long hallway at Tin Tal
The main altar of one of the Buddhist caves at Ellora
A Buddhist chaitya (temple) cave altar at Ellora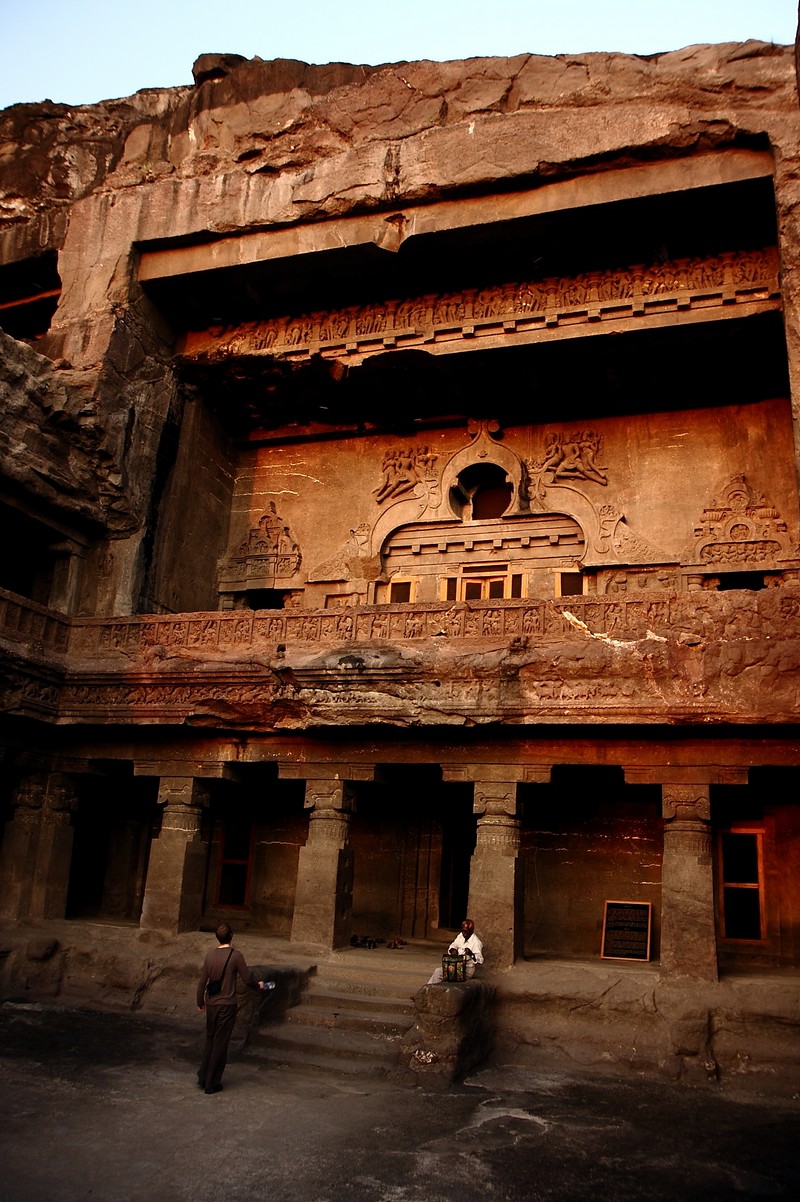 A travel website says, "Vishvakarma, or cave number ten, is a Hindu cave, and, as the name suggests, is dedicated to Vishvakarma, a Hindu God of architecture, engineering and constructions. Amazingly, this Hindu temple contains figures of Buddha in several poses and positions. There are some female figures too depicted on the walls, along with some Bodhisattvas."
The main altar of the Vishvakarma temple
Tourists at one of the Ellora caves.
On my way back from the Ellora caves to Aurangabad, the nearby city where I was staying, I rode in a Land Rover share taxi packed with no fewer than seventeen other adults and two children. I was amazed as we kept stopping so that the guy could squeeze more folks in, but none of the Indians seemed bothered by it. I was also amazed that the driver could successfully drive, with four other dudes squeezed into the front seat along with him, so crowded that his upper body was actually leaning out the window. He also was sometimes holding his phone up to his ear to talk, as he drove us around cliffside curves. Naturally, in such an unusual situation … I took a nap.
The taxi was relatively empty when I accepted the guy's invitation to leave the bus stop and jump in. I learned, past a certain point, though, that, in India, rarely is it safe to think "Cool, hey, I'm lucky this time, the bus/share taxi is relatively empty … I can relax, stretch out, take up some extra space." In India, I have found, buses and share taxis will more often than not wait and/or drive around until they are at physical capacity, people jammed up against each other and/or people standing in the aisles, before actually departing. In a way, I find it annoying that drivers seem to want to make as much revenue as possible, and that it is difficult to make plans to travel in India, since a journey can involve a lot of waiting and doubling back to pick up more passengers. But, in a way, I respect it; it seems like an ethos of making sure that every potential traveler is taken care of, and of making the most with limited vehicular resources.
I also visited the Aurangabad caves, which were almost within Aurangabad city (rather than a long bus/taxi ride away, like the Ajanta and Ellora caves). I think that the Aurangabad caves would have impressed me more than they did, if I hadn't just seen the glory of the other two cave systems.
I met an Indian Buddhist monk at the Aurangabad caves. He seemed sweet, strange, and normal (i.e. not very monkly, i.e. quite interested in my phone, etc.). I enjoyed talking to him, but he also didn't speak English, so communication was difficult.
Me, Avalokiteshvara Bodhisattva, and a monk wearing a tablecloth
Now that's what I call REAL ULTIMATE POWER
An altar at one of the Aurangabad caves
[Many of the pictures in this essay were borrowed/copied from internet web sites, most notably a few flikr sites. Thank you for the loan, photographers!]